All you need for a true game of thrones Westerosi viewing party.
Everyone knows that when you play the game of thrones, you win or you die. And sometimes you get really hungry.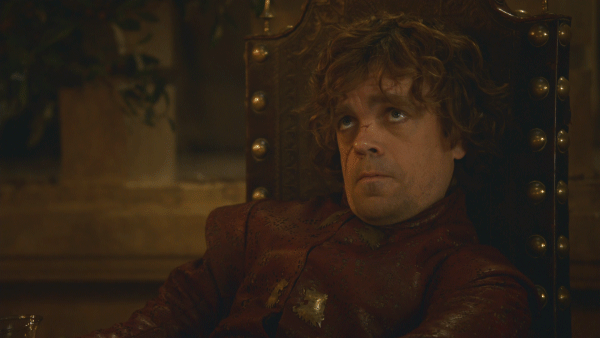 And thirsty.
With the Season 7 finale right around the corner, we decided to help you plan the perfect Game of Thrones viewing party. It's got everything you need: killer food, lots of booze (and a drinking game), and plenty of bad puns.
Let's get right into it!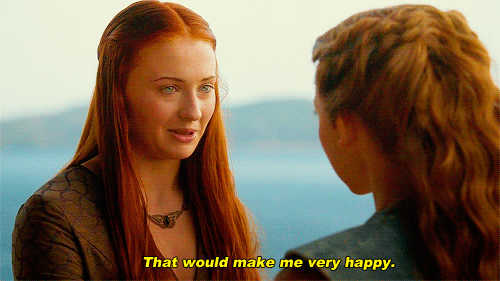 House Sigils Cookies
For these, you only need your favorite cookie recipe (ours is a yummy honey shortbread) or store-bought dough, and a set of cookie cutters.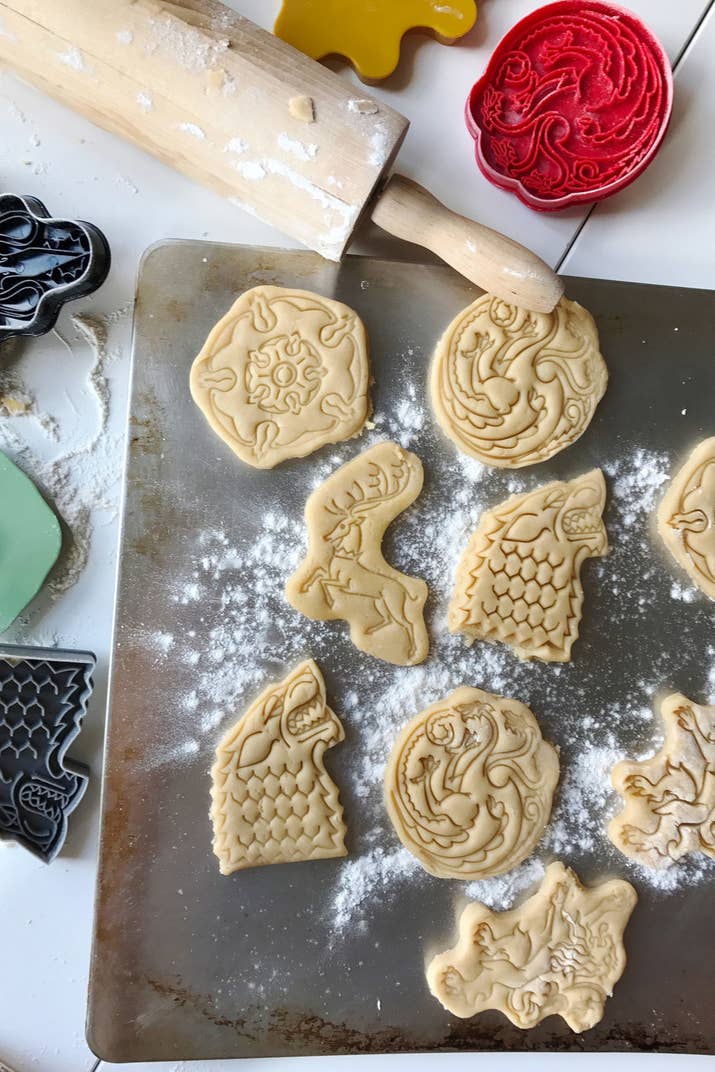 Not only are they fun and cute, but you can also use them to find out if your guests are Starks or Lannisters, or belong in another house. Just fill a cookie jar with them, blindfold your guests, and ask them to pick a cookie. The house sigil they pick will be the house they belong in.
Theon's Favorite Toy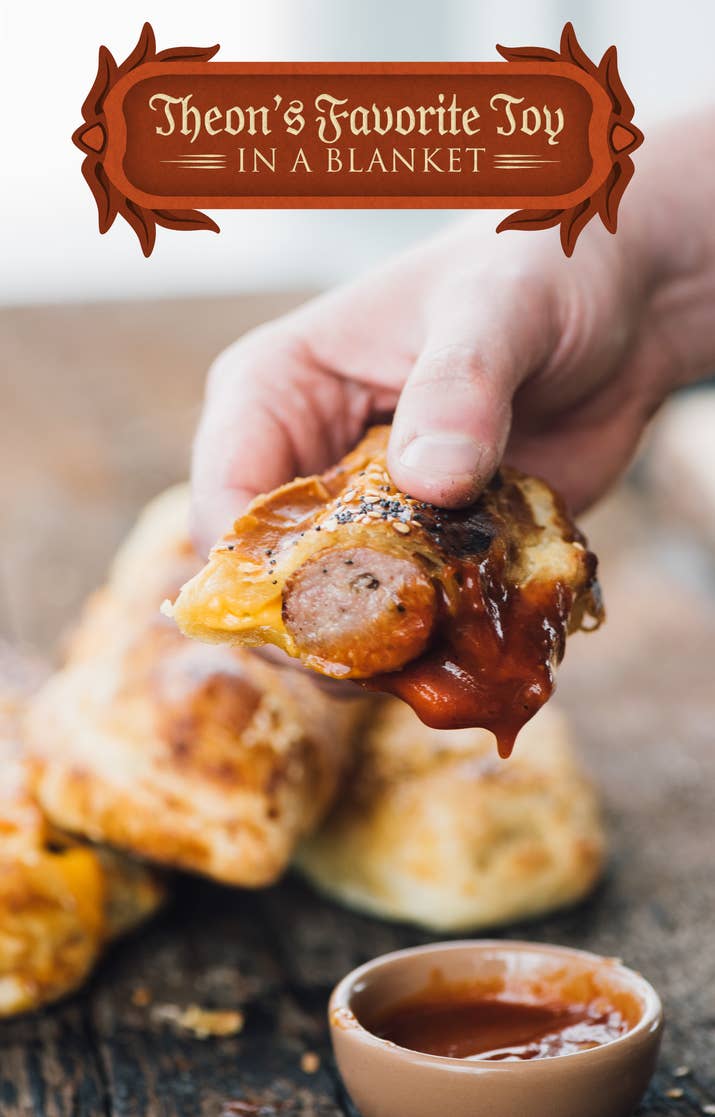 Ramsay Bolton did some truly evil things on the show, but his actions also inspired this tasty recipe, and for that we should be thankful. Rather than your usual pigs in a blanket, we decided to use bratwursts to really pay tribute to Theon's favorite attribute.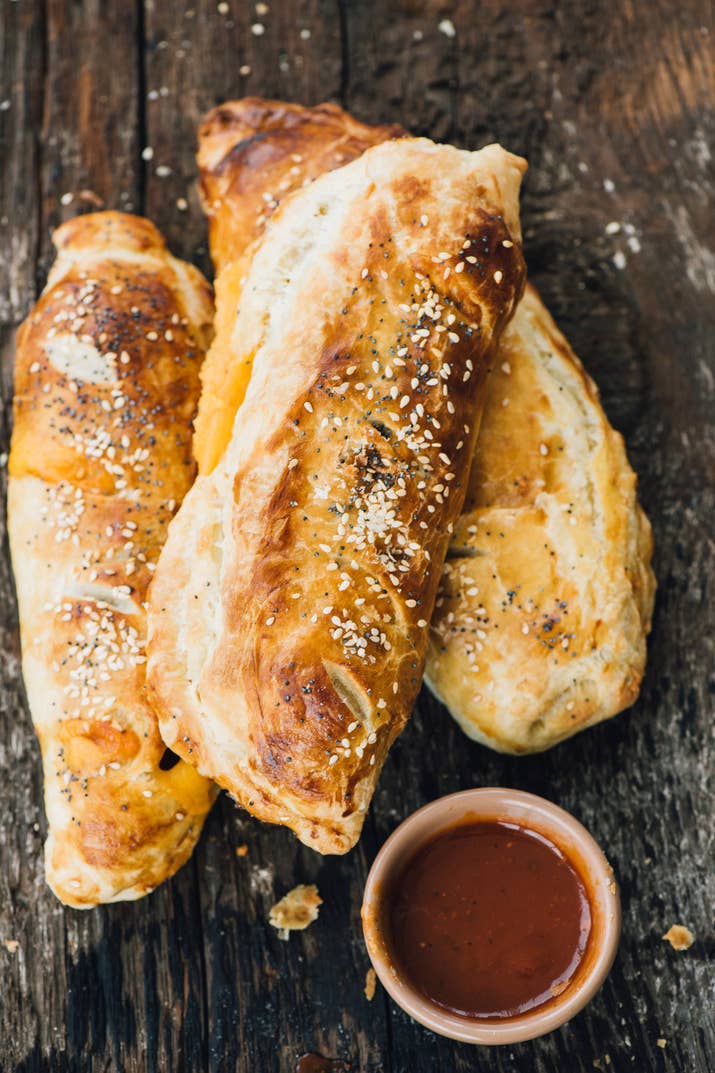 The recipe is super fast and easy thanks to using pre-made puff pastry and packaged bratwursts. The result is an addictive and delicious — albeit slightly cruel — party treat.
Deviled Dragon Eggs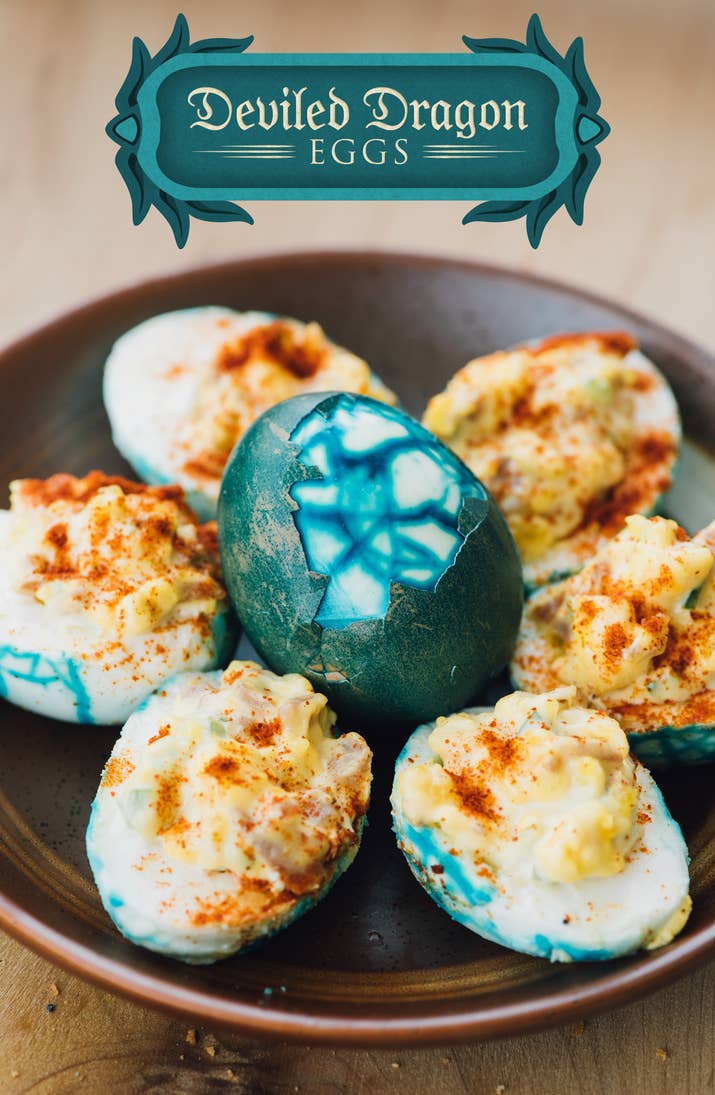 These are much smaller than actual dragon eggs but also probably way tastier. To get the marbled effect on the egg, just hard-boil the eggs, crack the shells a bit. Then put each egg in a Ziploc bag with a few drops of food coloring. Then massage and let them sit. Rinse, peel, and voilà!
The rest of the recipe is a classic deviled egg, except with a bit more heat — these are dragon eggs after all.
Red Wedding Punch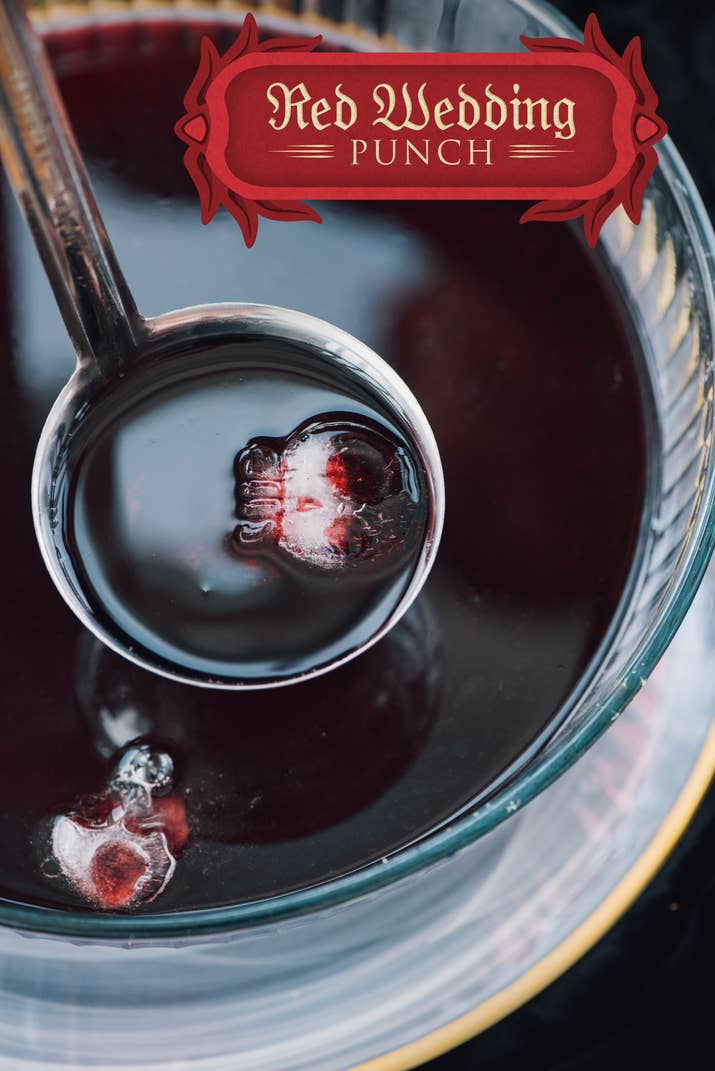 A cruel one for the Starks. Don't hate us, we didn't write the story.
This is actually a pretty classic sangria, we just got rid of the fruits before serving and used Lambrusco (a sparkling red wine) instead of classic red wine. We added some skull ice cubes to really fit with the gloomy theme.
You Know Muffin Jon Snow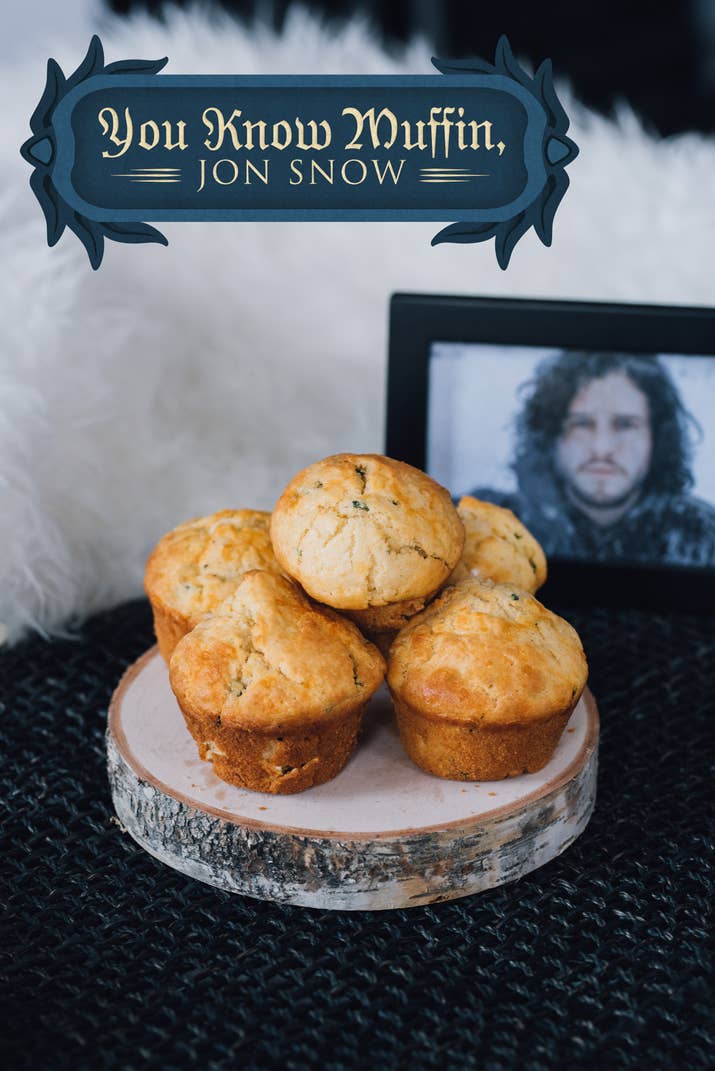 As far as I know, no one eats muffins on the show, so the idea behind this one is really just a wonderfully terrible pun. Filled with gooey cheese and garlic butter, these savory muffins would totally be worth a trip to the Wall though.
Beheaded Starks Cake Pops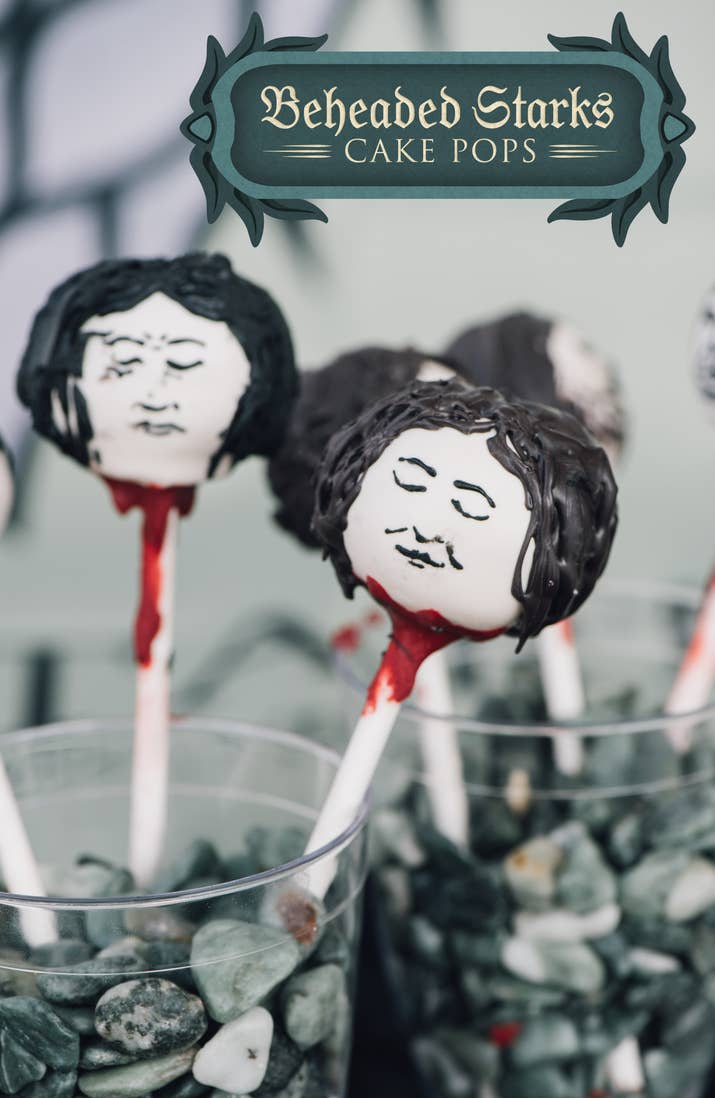 I love the Starks dearly, so I feel very guilty about these lemon cake pops. But also not really, because they're fun and tasty.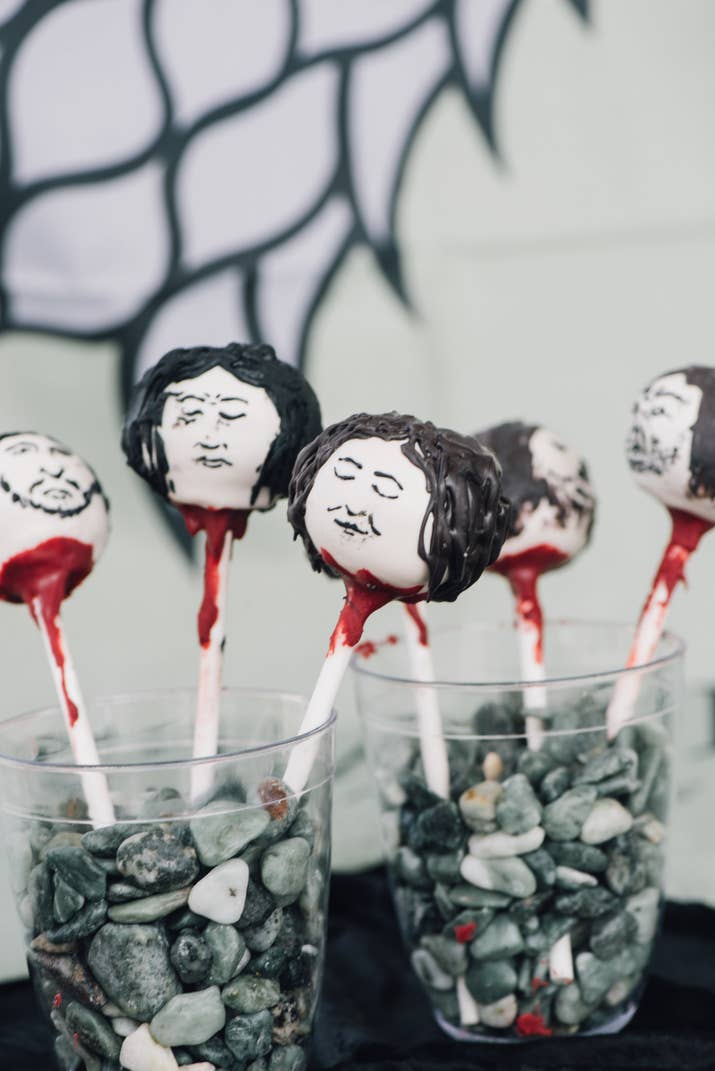 The heads are filled with lemon cake as an homage to Sansa Stark's favorite treat. You can go the from-scratch route, or just sub in any cake mix and store-bought frosting.
Also, not gonna lie: Drawing on these babies requires some skills if you want them to look really good. We asked an artsy coworker to help draw the faces. But even if you're not a pro, you can get a fun result with a steady hand and little bit of dedication.
Little Chicken Fingers
This recipe is inspired by the honeyed chicken served during the feast at Winterfell in the first book of the series. Rather than roast a whole chicken, we decided to make some party-friendly chicken fingers.
Breaded with a mix of corn flakes and panko, fried, and then coated with a light honey glaze, these chicken fingers are so good they'd bring peace to the Seven Kingdoms.
Wildfire Jello Shots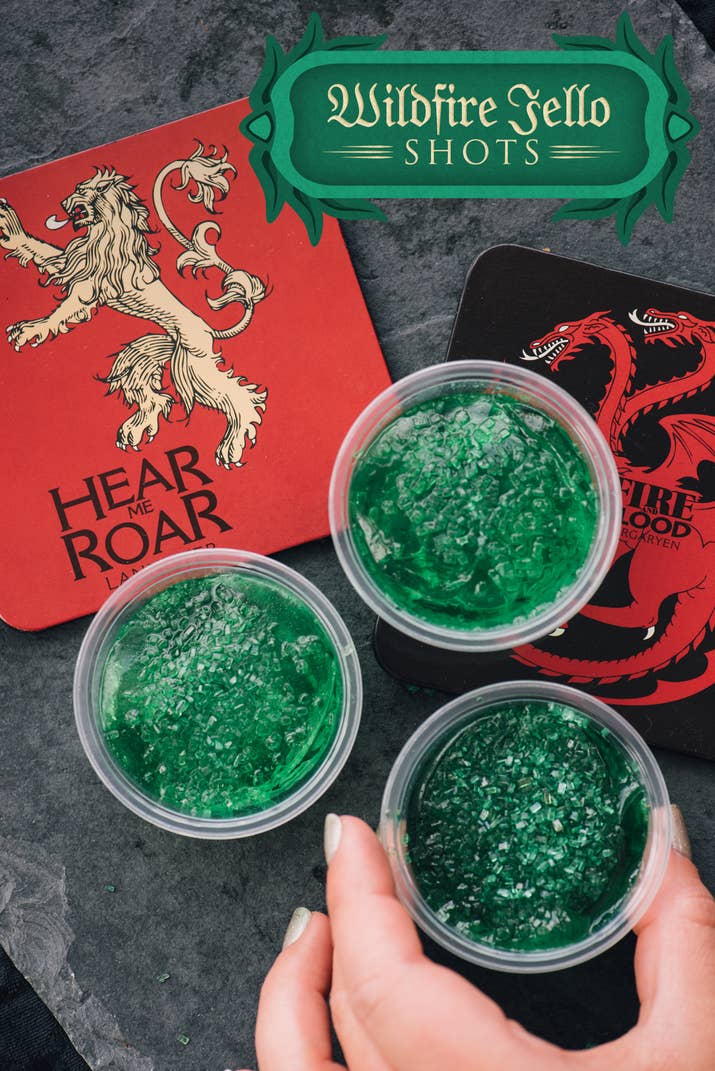 Cersei's favorite weapon also makes for killer jello shots. Who knew?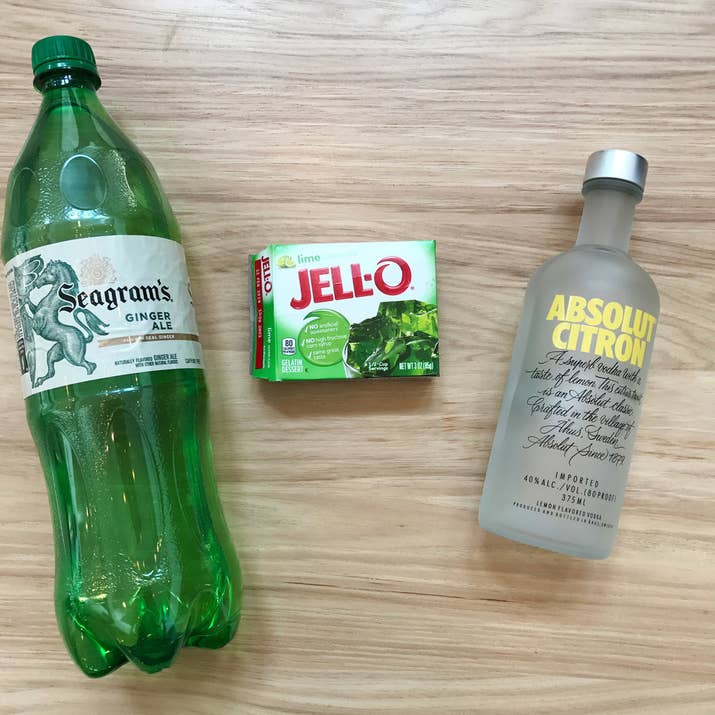 To make the shots tastier, we used ginger ale instead of water as well as lemon-flavored vodka. We topped them with green-colored sugar for serving. Beware: Once you taste one of these, you'll have a hard time not chugging them all.
To go with these drinks, here's a Game of Thrones drinking game that would make Tyrion proud.
You're now ready to host the best Game of Thrones viewing party in recent history.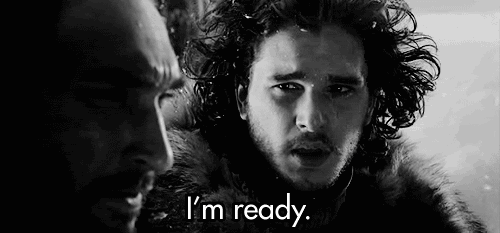 The post Here's How To Throw The Ultimate Game Of Thrones Party appeared first on Foodroll.