Although cancer and diabetes claim millions of lives every year, heart disease is still the biggest killer in the United States, killing as many as one in four people in America and afflicting significantly more men than women.
Still, the prevalence of the disease doesn't mean it's the way that you have to go, and indeed – with a few dietary adjustments, you can significantly lower your risk of suffering a heart attack. You should start by eating a great deal more of these five foods.
1. Blueberries
Cardiologist Adam Skolnick, M.D., of NYU Langone Medical Center, says that the risk of heart attack increases dramatically when your artery walls get inflamed. Not good at all, but Skolnick has the solution: "You can counter that process by eating at least a cup of blueberries a day." The key here relates to the antioxidants abundant in blueberries, and if you don't have any fresh berries, then don't worry: frozen ones do just as nicely. Stir them into your cereal or yogurt for a fruitful treat.
2. Beets
When it comes to improving your blood flow by alleviating blood pressure, then it's fair to say that nothing 'beets' a good helping of beets. Dr Skolnick says that beets release nitrites into your bloodstream, which expand your blood vessels and as a result, improve your flow. A study in the journal Hypertension backed this up, adding that beets also helped with arterial stiffness. What's not to like?
3. Nuts
Now before we get carried away and delve into a jar of peanut butter – I'm talking about real nuts, not those (admittedly delicious) legume imposters. Almonds, hazelnuts, walnuts or pecans are all good, thank goodness for that. A study published in the New England Journal of Medicinef ound that people who ate a handful of nuts five or more times a week were 29 percent less likely to die of heart disease than those who weren't… nuts about them. In general, nuts contain protein, fiber, not to mention plenty of fats which are good for your heart.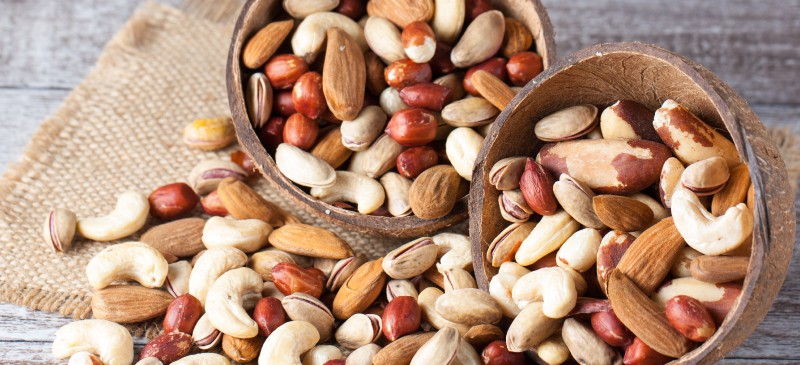 4. Fatty fish
If you're looking for foods to help you live forever, then you could do a whole lot worse than packing plenty of plaice into your plate. Plaice, as well as other fatty foods like salmon, sardines, herring, and canned light tuna, are rich in omega-3 fats, reliably demonstrated to improve your cardiac ability during exercise. Heather Garza, R.D., at Stanford Preventive Cardiology clinic, says that a helping of fatty fish about the size of your average smartphone around twice a week can help a ton. Provide that by replacing your grilled chicken with some salmon or tuna once in a while.
5. Legumes
Fan of hummus, falafel or peanut butter? Well, then do I have news for you: eating more legumes is vital to improving your overall heart health. It's all down to the abundant levels of fiber available in your average legume; not only is it good for helping your bowels to move in a timely and friendly fashion, it's great for binding to cholesterol-laden bile acids, acting as a bouncer and carrying them out of your body. So says Kate Patton, R.D., of the Cleveland Clinic, but of course, I'm paraphrasing. Try to eat around five to 10 grams of fiber a day; a cup of legumes is around six of those.
As by far the most common killer of people across the globe, heart disease is something we all need to be wary of as we embark on our various food trips and weight loss regimes. It's not always easy, but incorporating these foods into your diet shouldn't be too bad – your heart will thank you for it.
The post 5 Foods you should eat to protect yourself from heart attacks appeared first on Foodroll.